Corrugated Well Casing
"EXCEPTIONALLY STRONG"
- see our
SRC report
"COMPARATIVELY LIGHT"
- only 400 lbs. per length
Features
Corrosion resistant
Lightweight
Corrugated for extra strength
Reduced install time (up to 30%!)
Well designed
Economical
Customer Perforation allows maximum water flow
Incredible strength to weight ratio
Only 400 lbs per length (25')
Why choose GP Fiberglass?
We have been manufacturing corrugated well casing for over 20 years
Accepted in North America as the industry standard
Over 1 million feet of our well casing is in the ground across North America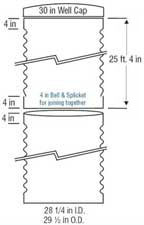 These attributes make for easy work on any depth of well. GP Fiberglass has been building corrugated well casing for over 20 years. A unique manufacturing method allows us to save time and waste, giving you a consistent and reasonably priced well casing.
More Information
Click here to view this products catalog page.
Installation
Click here to view some pictures of Reynolds Drilling Corp of Illinois installing some of our well casing.
Highlights

Hover over any of the highlighted areas to find out more about our casing.