Transformer Base Box Pad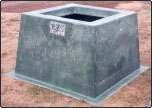 Our Transformer Bases are manufactured using high pressure molding techniques, resulting in high quality electrical box pads which are smooth on both sides, lightweight, economical, easy to install, and very strong.
The box pads are stackable, which allow for minimized storage space and cheaper freight costs.
They come in a variety of shapes and sizes including 32 Inch, 18 Inch, 3 Phase and more. They are available with custom knock outs and/or lids.
Available Sizes
Click a link to view the catalog page
Features
Stackable
Lightweight
Easy to install
Never needs painting
Adaptable
Well designed
Economical
Benefits
Freight Savings
Variety of Sizes
Variety of shapes
Minimize storage space