Home
Welcome to GP Fiberglass. We have been manufacturing quality composite products for over twenty years. From a modest beginning and one small building, we now operate 3 divisions out of two plants that employ over 20 people.

The home plant manufactures our 25 ft. by 30 in. Corrugated Water Well Casing. We supply customers throughout North America with safe and reliable water holding systems.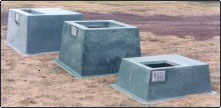 The Fiberglass Transformer Box Pads and Aircraft Warning Markers we build supply major utilities in both Canada and the United States.
The newest member of the GP family, Glass Reinforced Systems, manufactures Class A body panels and roofs for the RV industry.
GRS is also a custom shop for various Short line Farm Equipment manufactures.
Gregg Phillips, president of GP Fiberglass, welcomes you to tour the website. Please contact us if you have any questions, suggestions, or comments.
Thank you,
The GP family of companies.